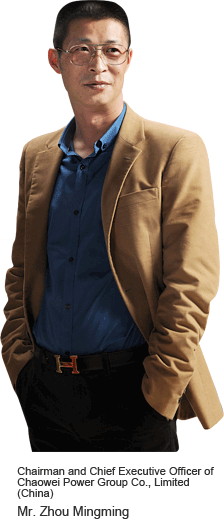 On behalf of the Board, I am pleased to present to shareholders the Group's annual results for the Year.

During the Year, the Group maintained steady business growth and achieved better results by leveraging its technological innovation, sound business strategy and management resilience, and, as a result:
Revenue for the Year reached approximately RMB31,931 million.
Profit attributable to the owners of the Company amounted to approximately RMB417 million.
With its comprehensive strengths and industry influence in the field of new energy, the Group was listed in"Top 500 Chinese Enterprises"(中國企業500強),"Top 500 Chinese Private-owned Enterprises"(中國民營企業500強),"Top 500 Chinese Energy Enterprises (Group)"(中國能源企業 (集團)500強),"Fortune Top 500 Chinese Companies"(《財富》中國500強),"Global Top 500 New Energy Enterprises" (全球新能源企業500強) and "China's Top 500 New Economy Enterprises"(中國新經濟企業500強), and was once again included in the list of"China Top 500 Machinery Companies"(中國機械500強). The Group was ranked the seventh among the "Top 100 Enterprises in China's Light Industry" (中國輕工業百強企業) and the first among the"Top 10 Enterprises of New Energy Battery Industry in China's Light Industry"(中國輕工業新能源電池行業十強企業) for the tenth consecutive year. Meanwhile, with its remarkable brand influence, the Group was again listed in the "China Brand Valuation List" (中國品牌價值榜) in the Year, highlighting the Group's brand image as an industry leader.
The Group's outstanding research and development ("R&D") and innovation capabilities and intellectual property management strengths have been certified by authoritative institutions and successfully passed the "National Model Enterprise of Intellectual Property"(國家知識產權示範企業) review.
The Group's business maintained a steady growth during the Year, as the People's Republic of China (the "PRC" or "China") gross domestic product (GDP) achieved a positive growth of 3% despite the recurring COVID-19 pandemic (the "Pandemic"), coupled with the demand for upgrading and replacement of electric bikes and electric tricycles in multiple application scenarios. The successive implementation of the "Safety Technical Specifications for Electric Bicycles" (《電動自行車安全技術規範》) (the"New National Standards" (新國標)) and other regulatory policies required by the PRC government in various provinces and cities across the country will help guide the standardized development of the industry and significantly benefit the leading enterprises.

During the Year, the Group leveraged its outstanding technological strengths and excellent product quality to promote the sustainable and stable development of its lead-acid motive battery business while developing other new products and technologies. The Group also continued to deepen its distribution network, enhance its brand building and increase its brand influence.

In addition, technological innovation is an important support to promote high-quality development. The Group seized the opportunity of the "dual carbon" strategy, actively integrated into the new development landscape, focused on core technology and product R&D, brought in world-class talents, improved product competitiveness through technological innovation, manufacturing innovation and management model innovation, and led and driven the high-quality development of the battery industry.

On behalf of the Group, I would like to express my sincere gratitude to all shareholders, customers and business partners for their long-term trust and support. I would also like to thank the Board, the management and all employees for their outstanding contributions. As 2023 marks the 25th anniversary of the Group's establishment, we will be more determined than ever to fulfill our mission of "getting the world to use 'CHILWEE''s green energy", while continuing to navigate challenges and go above and beyond. The Group will move forward in a pragmatic manner, striving for excellence with the ultimate aim of achieving a brilliant performance to bring shareholders more lucrative returns.

Zhou Mingming
Chairman and Chief Executive Officer
27 March 2023