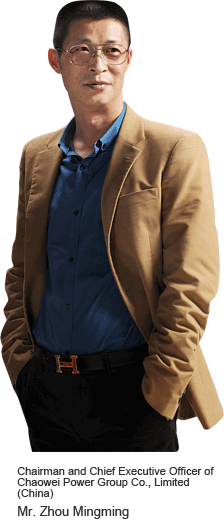 On behalf of the board (the "Board") of directors of the Company, I am pleased to present to shareholders the annual results of the Group for the year ended 31 December 2019 (the "Year").

The Group achieved good results and maintained steady business development during the Year. Its performance highlights are as follows:
Due to an increase in gross profit margin as a result of lead price decrease and cost reduction by application of new technology, profit attributable to the owners of the Company for the Year totalled approximately RMB561 million, representing an increase of approximately 36.0% as compared with that for the year ended 31 December 2018.
Having achieved top rankings in a number of renowned domestic and international lists of Chinese enterprises, including "Top 10 Enterprises of New Energy Battery Industry in China Light Industries" (中國輕工業新能源電池行業十強企業) for the seventh consecutive year and continuous capturing of its position among the 2019 "Global Top 500 New Energy Enterprises" (全球新能源企業500強), the Group has enjoyed strong recognition by the PRC government and the industry as an industry leader and a technology pioneer.
In addition to various awards earned in recognition of excellence in technological innovation, the Group has persisted in green production in tandem with national policies. The Group was one of the few members of the battery industry selected by the Ministry of Industry and Information Technology of the PRC ("MIIT") for inclusion in the first list of "Model Enterprise of Green Industrial Products Design" (工業產品綠色設計示範企業).
During the Year, the Group's business achieved encouraging development thanks to ongoing economic expansion in the PRC, as well as the effective control by the Group over its operations and costs. With the growth in the PRC's gross domestic product (GDP) reaching 6.1% in the Year, and consumption upgrade and urbanization continuing steadily, such developments have provided the catalyst for further growth in demand for lead-acid motive batteries for electric bikes, electric tricycles and special-purpose electric vehicles. In addition, the PRC government has further raised regulatory requirements on the safety and environmental protection performance of electric bikes, and tightened requirements on the recycling of lead-acid batteries during the Year, calling for the elimination of non-compliant products and the generational upgrade of electric bikes. These controls have been favorable to the development of leading battery manufacturers which provide premium quality and high specific energy products with well-established lead-acid battery recycling networks.

By further enhancing product quality and production technologies, as well as improving production management procedures, the Group has improved the cost-efficiency and competitiveness of its products. Also, by further strengthening its nationwide sales and distribution network with full coverage of both the primary and secondary markets, and imposing lean and flat management of distributors to maintain leadership in operational efficiency and increase profitability, the Group has further enhanced the reputation of the "CHILWEE" brand and its influence, and thus upheld the Group's leading position.

The Group is fully committed to technological innovation. With a top-notch research and development ("R&D") team, the Group has devoted relentless effort towards the R&D of, among other things, new types of batteries, energy storage business and smart production. The Group has been fervently promoting innovation in its technology, products, production and management and breakthrough products have been launched in succession. Investment has also been increased continuously for developing the Group's green business, which includes introducing energy-efficient and lightweight new products as well as enhancing the environmental friendliness of its manufacturing processes, in a bid to facilitate the upgrade and development of the industry.

On behalf of the Group, I would like to express my gratitude to all of our shareholders, customers and business partners for their unwavering support and trust in the Group. I would also like to thank the Board, management team and all of our staff for their exceptional contributions. In 2020, we will leverage our technological edge, innovations and advantages from industry-chain consolidation, plus the concerted efforts of management and the entire workforce in achieving high-quality development, to achieve further progress in globalizing the Group's business.

Zhou Mingming
Chairman and Chief Executive Officer
30 March 2020